Pictures of ChromaCubes!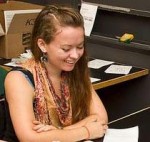 ChromaCubes made its debut at Boston FIG on September 22nd, where it was sold out about halfway through the convention!
See pictures from FIG.
---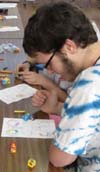 ChromaCubes was also featured at two events in November of 2012: Maynard Public Library's ALA Game Day, and EllisCon in Danielson, CT.
See pictures from these events.
---


ChromaCubes was a hit at TotalCon 2013 in Mansfield, MA.
Flip the Table calls ChromaCubes their new favorite.
Jason Tagmire calls ChromaCubes the "Most Innovative Game of the Con".
Tom Vasel included a few seconds of ChromaCubes in his video montage.
See pictures from this event. Don't forget page 2